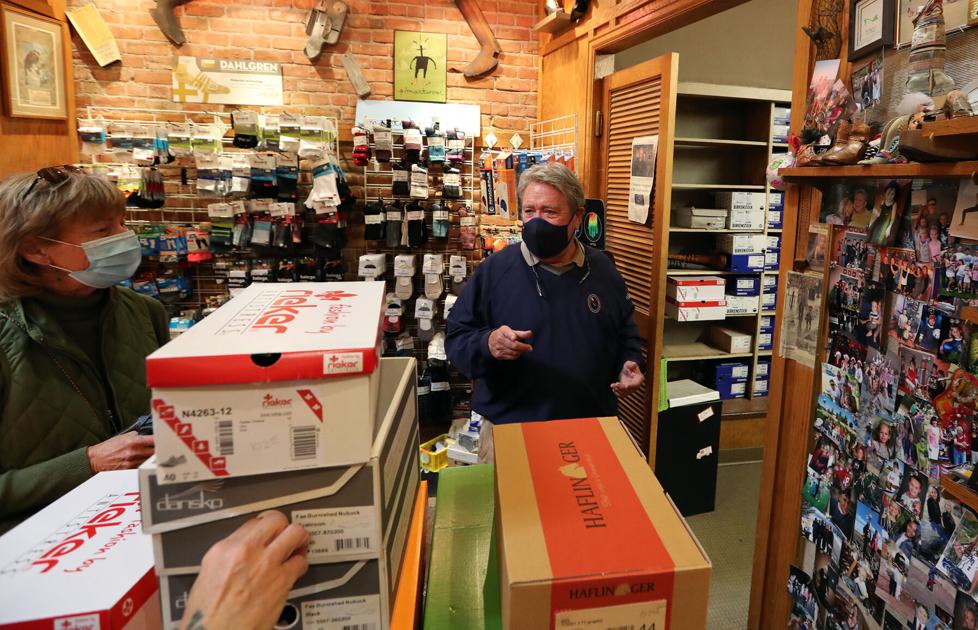 #inform-video-player-1 .inform-embed { margin-top: 10px; margin-bottom: 20px; }
#inform-video-player-2 .inform-embed { margin-top: 10px; margin-bottom: 20px; }
COVID-19 wasn't the only story for businesses in 2020, but it was most of the story.
In a year marked by closures, changes and a growing tome of health and safety rules, the Grand Valley business community saw a shift to curbside pickups, takeout creativity and a run on plexiglass that likely won't be repeated again soon.
Perhaps the biggest change to area business came late in the year when Grand Junction's oldest store finally called it quits.
After 109 years in business, Benge's Shoe Store in downtown Grand Junction ended its three-generation run as Colorado's oldest family-owned shoe store.
With the pandemic resurfacing in November and the prospect of another challenging year ahead, owner Bruce Benge told The Daily Sentinel last month that while the store was still viable, he wasn't willing to roll the dice on another year in 2021.
"I just know it's time to move on," Benge said.
Benge's Shoe Store was a good one, "a doable task," Benge said. "We're not going out of business because we have to."
Bertrand Benge, Bruce's grandfather, opened the store in 1911, when there were still only 46 states officially in the union. Bruce's father, Harry, became a partner at the store in 1935, and Bruce would become a partner in 1975.
A COLD START
One of the region's most celebrated industries took a big hit in April when a spring freeze damaged the bulk of the region's peach crop.
Area peach farmers reported losing anywhere from 50% to nearly their entire crop as a result of the freeze.
"I lost 100% of everything — cherries, apricots, peaches. Thank goodness I had crop insurance," Richard Skaer, whose roughly 20-acre growing operation is on East Orchard Mesa, told The Daily Sentinel in August.
Bruce Talbott at Talbott's farms said his company's crops would be somewhere around 15 to 20% of normal.
The devastation led to a disaster declaration from the U.S. Department of Agriculture in hopes of opening lines of financing to affected growers.
A similar disaster declaration was sought for damage done this season to area vineyards that lost grapes not just to frost but also smoke taint from the Pine Gulch Fire.
Here is a list of the other top stories in business from 2020:
In January, Russell Stover announced that it would close its Montrose plant by March 2021. This was part of an effort to shut down what the company called "low-traffic stores" and strengthen other ones. All of the plant's workforce, more than 400 people, had the option to move to one of the three locations in Texas or Kansas.
Colorado Mesa University responded by offering two semesters of free tuition at the main campus, the Montrose satellite campus or at Western Colorado Community College.
In October, CMU announced it would ramp up efforts finding eligible students for the Colorado Opportunity Scholarship Initiative grant scholarship not only for the Montrose workers, but also anyone who lost their job because of the pandemic.
In March, The Daily Sentinel reported that StarTek, a call center outsourcing service, would close its location on North Avenue by June and leave 371 people out of work. It seemed like the company was in good shape in 2018, when it employed nearly 700 people and planned to add another 200 that summer.
At Mesa Mall, construction of the new Dillard's was delayed with no indication of when it would resume. Also, the mall lost its Chuck E. Cheese location as a result of CEC Entertainment's June announcement of the closure of 45 Chuck E. Cheese locations.
In late June, EcoGen Laboratories, a cannabidiol (CBD) processing company, announced that it would be laying off 101 people across its eight locations in western Colorado — six in Grand Junction, one in Mack and one in Olathe.
The hemp industry was struggling with an oversaturated market that impacted a number of hemp businesses in 2020.
But, in August, Kadenwood LLC, a California company focused on CBD, purchased the EcoGen operation.
EcoGen Biosciences has since purchased General Processing LLC, a Delta-based hemp processing and extraction company.
Air travel throughout the country took a hit because of the pandemic, and that included the Grand Junction Regional Airport. There were 29% fewer passengers going through Transportation Security Administration checkpoints at the local airport up until Thanksgiving week. For the holiday period, that number dipped to 52% from 2019. Those figures, though, are above the national averages.
However, amid the challenges, Allegiant Airlines added a non-stop route to Orange County in November, and the airport is scheduled to have a direct flight to San Francisco sometime in 2021.
Capco LLC, a local defense contractor, won a hefty deal with the U.S. Army.
For $33 million, it must supply the Army with 1,000 40mm M320 grenade launchers and 15,000 40mm M320A1 launchers by April 2025.
Just months prior to that announcement, Capco agreed to a settlement — in which it admitted no wrongdoing — over a faulty trigger on the same models of launchers.
#inform-video-player-3 .inform-embed { margin-top: 10px; margin-bottom: 20px; }